CIVICUS speaks with Nay Lin Tun, a doctor and civil society humanitarian worker in Myanmar, about conflict in Rakhine State, the difficulties faced by minorities in the region, and civil society's work to provide help.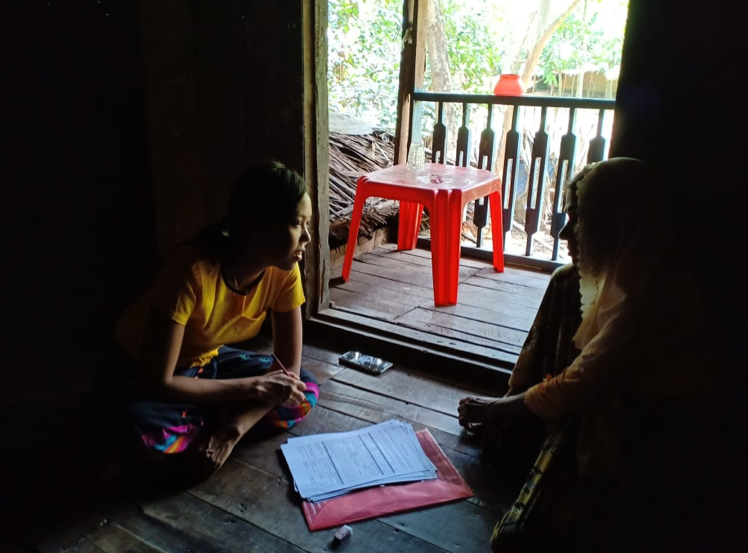 Can you tell us about your background and the work you're doing in Rakhine State?
I'm a doctor working in public health, particularly focusing on primary healthcare, reproductive and women's health, HIV/AIDS and tuberculosis. I was part of a group who founded a civil society organisation, the Center for Social Integrity, which supports communities in conflict-affected areas, including Rakhine State. We're trying to support people based on their needs, including their needs to food, shelter and livelihoods. Right now in Rakhine State we are providing basic humanitarian support, education, healthcare, livelihoods and water and sanitation services for people in the conflict areas. Because of my experience I focus on providing healthcare and humanitarian support.
At the moment there is fighting in the north and east of Rakhine State between the Myanmar Army and the insurgent Arakan Army. According to the United Nations there are around 35,000 newly displaced people because of the fighting in 2019, living in camps in Rakhine State. We are supporting these communities and other conflict-affected communities in the area.
What are some of the challenges minority groups face in Rakhine State?
In my country there are 135 recognised ethnic groups. The majority ethnic group are the Bamar, who are the main group across most of Myanmar. At the other end of the spectrum are lots of small groups, often in the regions close to borders, who are becoming less and less recognised by the government. Different groups face different challenges. In Rakhine State there are religious, ethnic and social minorities, and they all face human rights challenges.
The Rohingya community, who are Muslims, have been subjected to a lot of abuses. They are denied citizenship and treated as stateless persons. They are not recognised as an ethnic group by the 1982 Citizenship Law. They are called Bengalis by many in the dominant population groups, because they see them as belonging to Bangladesh. They have their movement restricted and struggle to access education and healthcare.
Local hospitals are inadequate, so if there is a medical emergency people have to travel to a major city. Before 2017 they could go to the Bangladesh side of the border on a short-term pass and get hospital treatment, but now the border area is closed and they cannot do this. But because they don't have citizenship and their movement is restricted, it is also hard to go to the big hospitals in Sitwe, the main city in Rakhine State. People can pay for this with their lives. If there is an emergency, the only way people can negotiate to get treatment is to pay a bribe. This happened to someone I was trying to treat for a tumour.
In another case, a pregnant woman had severe labour pains in the middle of the night. They tried to take her to hospital, but there is a curfew, introduced in 2017 and in force ever since. No one can go out between 11pm and 5am. There are many police checkpoints in the area, and while other villages were okay, in this case they would not allow this pregnant woman to pass. She had to go home. By the time she could go to hospital the next day, the child was already dead. Luckily, the mother survived.
Rohingya people are also denied education. The highest education most people can get is at high school. They cannot join a university as a full-time student. They can only do distance learning for a few subjects. They also struggle to find work. Most Rohingya people work in farming, fishing and cutting timber, but right now they are not allowed to fish or go into forests to chop wood. Most of the farming lands are occupied by the military. Most people are now involved in daily casual work. So everyday life is very challenging.
The Rohingya are not the only minority in the region who face difficulties. Local ethnic groups such as the Chakma, Dynat and Mu, who live on the mountains, face challenges, even though their religion is Buddhist. Because they live in remote locations, they cannot access healthcare and education. They have no life opportunities.
What was your experience of the violence that occurred in 2017?
What I saw was people living in fear. I saw communities that were afraid of each other: Rohingya people and Rakhine people, the majority group within the state, were afraid of each other. I worked on medical clinics in northern Rakhine State and hired a taxi to transport medicines. My driver, who was from the Rakhine group, did not want to take me to the area. You had people unable to go to the other communities because they did not think they would come back.
What role do you think hate speech and extremist views played in stoking conflict?
Most of the hate speech and extremist protest and provocations came from extreme groups in the big cities, and was spread by social media, whereas in rural communities it was more that you had villages of different ethnic groups that were afraid of each other. There was a lot of misinformation spread through social media, and this was viral. No one could know what was true or not. Positive stories and true information were far less viral than hate speech and misinformation.
In the major cities, hate speech and misinformation turned a social conflict into a religious conflict between Buddhism and Islam. Extremist Buddhist monks turned this into a bigger conflict. Extremist groups spread disinformation and encouraged extremism, with the unofficial support of the military and political parties, in their own interests. People played political games in the big cities, but they had no connection to the villages in the conflict area. Those people were the most affected and they were living in fear, and live in fear now. There is a big challenge in controlling hate speech and misinformation on social media.
It is much harder for civil society voices promoting social cohesion and religious harmony to be heard compared to hate speech, but civil society is trying to do this. These are messages my organisation is trying to promote very strongly in the conflict areas. But there is a need for more impact, and more efforts, not just from civil society but from the government. There is a need for much more activity that strengthens communities.
What support is needed, including from the international community, to improve the lives of minorities and people affected by conflict?
There is a lot of willingness from the international community to support people in Rakhine State, and not only Rohingya people but also other minorities. But the most challenging thing at the moment is that national government and local authorities are limiting them from doing so, and have been doing since 2017. So there is a lack of ability to really go into the villages and directly help people.
The international community needs to engage with the national government and local authorities so that they are willing to work with them and listen to the voices of local communities and support them in the areas affected by conflict. They need to build relationships with the government, and the government needs to work with the international community. The government needs to open the doors.
It is all about access – access to healthcare, access to education, access to livelihoods. Right now access is blocked. Even access to the internet was blocked by the government, between June and September. People don't have access to the means to share their voices. People are also scared of speaking out because of restrictive media laws. They fear they will get into trouble. This is why I try to share their stories. So, access is the big challenge. We need more access by the community for the community. This is why the government needs to open the doors for international and local civil society.
Civic space in Myanmar is rated as 'repressed' by the CIVICUS Monitor.
Get in touch with Center for Social Integrity through its website and Facebook pages, and on Twitter @cfor_integrity.